Realms Personalities : Sindonish, Monk of the Yellow Rose
By Robert Wiese (Web)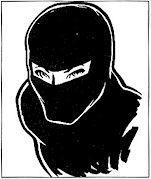 Born in Saerloon, one of Sembia's oldest cities, Sindonish grew up as the quiet third son of a minor noble house. Given much free time, he fell in with dangerous company and eventually joined the evil order of the Monks of the Dark Moon. He kept his membership and his training secret from his family, which is not a hard thing to do in Sembia. Everyone has their secrets in that land, and usually the head of a household is too busy with family or personal affairs to pay much attention to the children -- especially to things the children work to keep hidden. So Sindonish advanced in his training with the monks of Shar and identified himself with their aims.
After some years with the monks of the Dark Moon, he left Saerloon to journey and expand his experience of the world, but he never lost track of his comrades. He discovered other orders of monks and studied with them for a time, posing as a traveling monk always from an unknown order whose temple was far away. In this way, he gained an "in" with these monks, and later turned these connections to good account. He returned to Saerloon and the Dark Moon monks when he turned 30. His superiors sent him back out into the world to infiltrate other orders of monks and thwart the plans of good. He selected the quiet but active monks of the Yellow Rose, and joined their order in Damara.
Sindonish spent some years in contemplation and training, then he followed that with traveling. The monks of the Yellow Rose revere Ilmater, the god of pain and suffering, and maintain a museum in addition to serving alongside paladins of the Golden Cup as they travel. While journeying, they assist the paladins with healing, spreading the word of Ilmater's care, and saving lives. Sindonish has found this a perfect guise for fomenting trouble. While comforting those who suffer, he subtly blends Shar's own twist into his words and speaks gently of revenge to come, of storing up but never showing bitterness, and of never forgetting what injuries people do to you. Ilmater and his brethren of the Yellow Rose would be shocked, to be sure.
Occasionally, he receives instructions from his superiors in the Dark Moon, and he sneaks out at night to kill, plants evidence that causes dissension, meets with different sects to stir up bitterness and hate for their rivals, or performs some other fell deeds. He is quite good at this work, even without great skill in diplomacy, as his humble appearance and obvious status as a monk of the Yellow Rose leads others to believe he has no interest but their well-being in his words and deeds.
Sindonish is trained in a variety of weapons and uses whatever is at hand. He favors unarmed attacks or the nunchaku as a melee weapon, but he also owns an extensive collection of shuriken, kamas, daggers, sianghams, and blowguns. He is skilled in the use of poison, and many a key personage has died from a poison blowgun dart at a critical time. He is ruthless, but humble and with a good understanding of his place in the world. He never betrays his Yellow Rose brothers openly, nor does he ever appear to be anything but a simple brother of the Yellow Rose. His ring of mind shielding protects him from discovery, but he is always wary of anyone finding out his secret. Thus, he is constantly watchful while not appearing to be.
Sindonish does not follow any deity with devotion, though he acknowledges Shar as his patron deity. In fact, he does not really understand the fanatical religious adherent. His own religion, like everything else in his life, is measured and rational and even serene. No flights of emotion mark Sindonish's behavior, in religion or in any other area.
Sindonish appears a common monk. He is not very attractive, and his body looks as if hard work is familiar to him. He is muscled and lean, with a few scars from climbing or other wilderness accidents. The scars help him maintain his cover among the Yellow Rose monks, so he has never had them healed. He is short for a human -- only 5 feet 3 inches tall -- and stocky for his height. He wears simple clothes, as befits a monk of the Yellow Rose; he gave up the trappings of wealth as soon as he left Saerloon and has always felt most comfortable in the simple monk's habit.
When encountered, Sindonish will most likely be in the company of some paladins of the Order of the Golden Cup, or with some other monks of the Yellow Rose. Monks of Ilmater do not travel alone, so he never does. He is always, somehow, just where he needs to be. Perhaps it is the movement of Shar, or perhaps the Dark Moon monks know where he will be and plan his tasks accordingly. It does not matter to Sindonish; he lives to serve wherever he is needed.
Sindonish: Male human Mnk 8/Ninja of the Crescent Moon 5; CR 13; Medium-size humanoid; HD 8d8+24 plus 5d8+15; hp 101; Init +11; Spd 50 ft.; AC 23, touch 22, flat-footed 18; Atk +13/+8/+3 melee (1d10+2, unarmed strike), or +13/+8/+3 melee (1d6+2, nunchaku), or +16 ranged (1d8/19-20, light crossbow); SA flurry of blows, kuji-kiri, silencing attack, sneak attack +3d6, stunning attack (9/day); SQ evasion, fast climb, fast movement, fast sneak, improved evasion, leap of the clouds, poison use, purity of body, slow fall 50 ft., still mind, wholeness of body 16; AL LE; SV Fort +16, Ref +18, Will +16; Str 14, Dex 20, Con 16, Int 13, Wis 16, Cha 9.
Skills and Feats: Balance +13, Climb +15, Diplomacy +3, Escape Artist +11, Hide +20, Jump +12, Listen +11, Move Silently +20, Spot +8, Tumble +22; Blooded, Circle Kick*, Deflect Arrows, Improved Initiative, Improved Trip, Improved Unarmed Strike, Lightning Fists*, Quick Draw, Snatch Arrows*.
Flurry of Blows: Sindonish can use the full attack action to make one extra attack per round with an unarmed strike or a special monk weapon at his highest base attack, but this attack and each other attack made that round suffer a -2 penalty apiece. This penalty applies for 1 round, so it affects attacks of opportunity he might make before his next action. If armed with a kama, nunchaku, or siangham, he makes the extra attack either with that weapon or unarmed.
Kuji-Kiri: By making mystical hand gestures as a standard action, Sindonish can render opponents helpless as if he had cast a hypnotic pattern spell. He can affect 2d4+5 opponents, and each subject must make a Will save (DC 11) to avoid the effect. The effect lasts as long as Sindonish continues to gesture, plus 1 additional round. He can use this power five times per day.
Silencing Attack: If Sindonish successfully hits a flat-footed opponent with a melee attack, the opponent is unable to speak for 1 round. This ability prevents the opponent from casting spells with verbal components and shouting warnings or alarms.
Stunning Attack (Su): Once per round (but not more than 9 times per day), Sindonish can stun a creature damaged by his unarmed attacks. The foe so struck must make a Fortitude saving throw (DC 17) or be stunned for 1 round in addition to taking normal damage from the attack. Creatures immune to critical hits cannot be stunned with this attack.
Evasion (Ex): If Sindonish makes a successful Reflex saving throw against an attack that normally deals half damage on a successful save, he instead takes no damage.
Fast Climb: Sindonish can scurry up a wall at unbelievable speed. With each successful Climb check, he can move half his speed as a move-equivalent action, or his speed as a full-round action. Furthermore, he retains his Dexterity bonus while climbing.
Fast Sneak: When using Move Silently or Hide, Sindonish can move at his normal speed without taking a penalty to those skills.
Improved Evasion: Against attacks that require a Reflex saving throw for half damage, Sindonish instead takes no damage on a successful save or half damage on a failed save.
Leap of the Clouds: Sindonish's jumping distance (vertical or horizontal) is not limited according to his height.
Poison Use: Sindonish is trained in the use of poison and never risks accidentally poisoning himself when applying poison to a blade.
Purity of Body: Sindonish gains immunity to all diseases except for magical diseases such as mummy rot and lycanthropy.
Slow Fall: When within arm's reach of a wall, Sindonish can use it to slow his descent while falling. He takes damage as if the fall were 50 feet shorter than it actually is.
Still Mind: Sindonish gains a +2 bonus to saving throws against spells and effects from the Enchantment school.
Wholeness of Body (Su): Sindonish can cure up to 16 hit points of his own wounds each day, and he can spread this healing out over several uses.
Possessions: ring of mind shielding, monk's belt, cloak of resistance +3, ring of protection +2, bracers of armor +1.
Non-standard Rules:
Circle Kick (from Sword and Fist): A successful unarmed attack roll allows you to make a second attack roll against a different opponent that is within the area that you threaten. This feat requires the full attack action.
Lightning Fists (from Sword and Fist): You can make two extra attacks in a round. All attacks made this round suffer a -5 attack penalty. This feat requires the full attack action.
Snatch Arrows (from Sword and Fist): You must have at least one hand free (holding nothing) to use this feat. When using the Deflect Arrows feat, you can catch the weapon instead of just deflecting it. Thrown weapons such as spears or axes can be thrown back at the original attacker as an immediate free action or kept. Projectile weapons such as arrows or bolts can be fired back normally on your next turn or later, if you possess the proper kind of bow or crossbow.
---