Waterdeep Locales
Trades Ward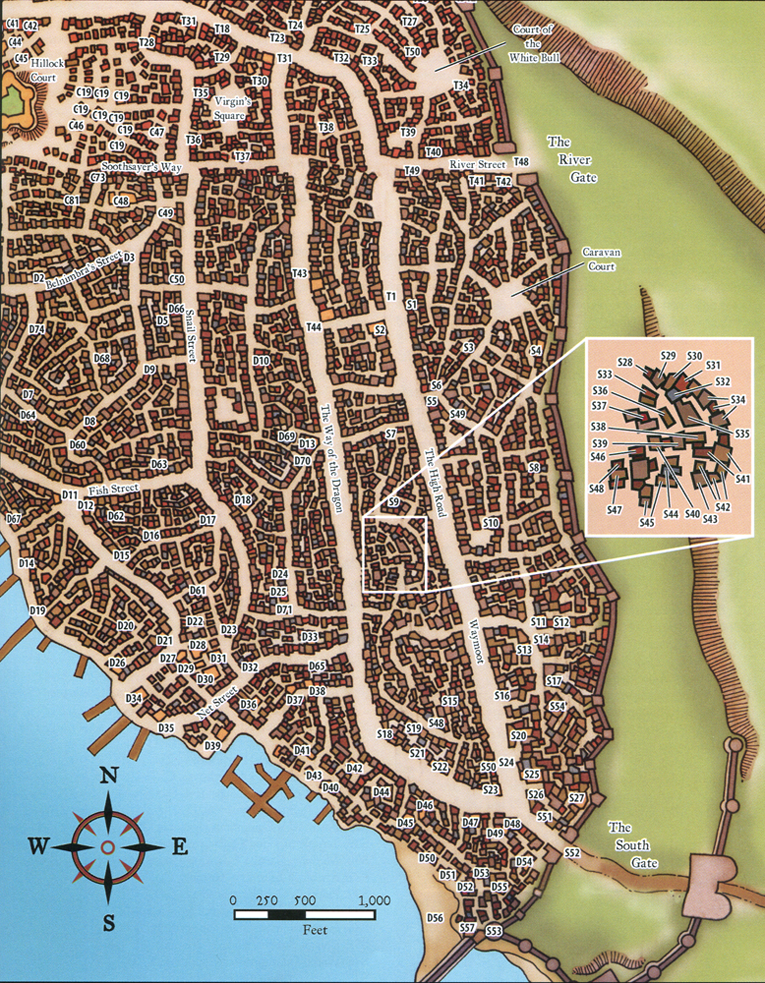 COURT OF THE WHITE BULL
This place is a packed-dirt plaza named for the birth of an albino calf on this site when it lay outside the city walls. The calf's owner eventually built the White Bull tavern, which thrived for years until destroyed by Thongalar the Mighty and Shile Rauretilar in a great spell battle that tore a rapidly widening planar breach to the Astral Plane. Azuth, god of mages, repaired the breach, but this area intermittently acquires the planar trait of wild magic. As a result, no one has ever dared build on the location, making it a natural meeting place and market for caravan owners to peddle their wares from wagons.
THE PLINTH (T38)
Once a wizard's tower and the center of Selunite worship in Waterdeep, the Plinth is now a temple open to any faith and employed by worshipers of gods who lack sizable congregations in the City of Splendors. This mighty, needlelike tower resembles a tall, thin, pyramid with the top cut off. Small balconies spiral around the tower in slow descent. City laws forbid the sacrifice of intelligent beings to any god, but a lot of folk leap (or are "helped" to fall) from these heights each year. The flat roof is often used as a landing place for aerial steeds by the city's wealthy and powerful.
VIRGIN'S SQUARE
This market and traditional hiring place for warriors is named for a local legend that virgins were sacrificed to dragons on this spot, long before the founding of Waterdeep. Whenever Cult of the Dragon agents visit the city, this is their traditional meeting place.
TRADES WARD STRUCTURES
T1: The Underdark (tavern, C, 2)
T2: Khammeral's Coins (business, C, 1)
T3: Inn of the Dripping Dagger (inn, B, 4)
T4: The Riven Shield Shop (business, B, 2)
T5: Myrmith Splendors' residence (row house, B, 2}
T6: Mhair's Tower (wizard's domicile, A, 5")
T7: Saern's Fine Swords (business, B, 2)
T8: Gondalim's (inn, B, 3)
T9: Dunblast Roofing Company (business, C, 2)
T10: Citadel of the Arrow (guildhall, B, 3)
T11: Costumers' Hall (guildhall, B, 2)
T12: Thentavva's Boots (business, C, 1)
T13: Maelstrom's Notch (inn, B, 2)
T14: The League Office (guildhall, C, 1)
T15: The Unicorn's Horn (inn, B, 6)
T16: Aurora's Realms Shop, Street of Tusks Catalogue Counter (business, B, 4)
T17: Orsabbas's Fine Imports (business, C, 3)
T18: Riautar's Weaponry (business, C, 2)
T19: The House of Song (guildhall, B, 2)
T20: Patient Fingers Fine work (business, C, 2)
T21: League of Basketmakers & Wickerworkers Storage (warehouse, C)
T22: The House of Cleanliness (guildhall, C, 1)
T23: Belmonder's Meats (business, C, 1)
T24: Thond Glass and Glazing Shop (business, C, 2)
T25: The Zoarstar (guildhall, temple, B, 3)
T26: The Old Guildhall (guildhall, C, 3)
T27: The House of Textiles (guildhall, B, 2)
T28: Golden Horn Gambling House (festhall, B, 3)
T29: The House of Light (guildhall, B, 3)
T30: House of Light Storage (warehouse, C, 2)
T31: Stationers'Hall (guildhall, C, 2)
T32: The Gentle Rest (inn, B, 5)
T33: The Gentle Rest Stables (business, C, 2)
T34: The Guild Paddock (guildhall, G, 2)
T35: Meiroth's Fine Silks (business, B, 3)
T36: The Bowels of the Earth (tavern, C, 2)
T37: Cobblers' and Corvisers' House (guildhall, C, 2)
T38: The Plinth (city building/temple, A, 6)
T39: Felzoun's Folly (tavern, C, 3)
T40: Surtlan's Metalwares (business, C, 1)
T41: Scirkhel Wands' residence (row house, B, 3)
T42: Wheel Hall (guildhall, C, 2)
T43: The Gray Serpent (inn, C, 3)
T44: Blackstone House (row house, B, 4)
T45: Rejviik's Mortuary (business, A, 3)
T46: Monastery of the Sun (temple, A, 4)
T47: Huulfor Manor (business, A, 3)
T48: River Gate (city building, A, 4)
T49: The Singed Bolt (tavern, C, 2)
T50: Zeltabbar Iliphar's residence (row house, B, 3)
T51: Henndever's Coffins and Coffers (business, B, 2)
City of the Dead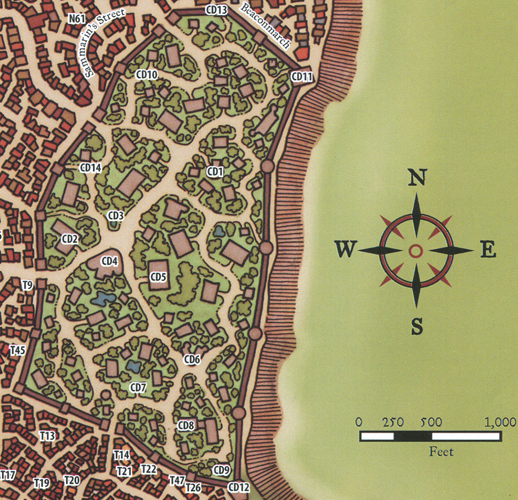 ROADS' END (CD1)
This small tomb is the final resting place for travelers who die while in the city. Any unclaimed possessions are interred with their remains (minus any outstanding debts, including their burial costs). This tomb has always been a frequent target for thieves, usually following rumors of rich adventurers being buried with great magic and gold.
THE HOUSE OF THE HOMELESS (CD2)
This is a vast mausoleum with a row of low steps leading up to its high metal gates. Anacaster's portal (an opaque energy-filled arch at the end of the echoing, empty entry hall) leads to an apparently endless labyrinth of underground caverns. The city pays the Guild of Chandlers & Lamplighters to light these caverns. Here lie all the dead of Waterdeep who do not merit, or do not own, a place in any other tomb. If their names are known, such are always cut into the rock above the hole where their cremated ashes are interred.
AHGHAIRON'S STATUE (CD3)
This tall, marble sculpture is an incredibly lifelike depiction of the bearded, robed mage as he appeared at age seventy (his prime). Ahghairon stands atop concentric steps, facing west with his hands outstretched to indicate the City of Waterdeep around him, with a smile on his face. The steps are lit by night with rows of torches and are a favorite meeting spot by day.
MERCHANTS' REST (CD4)
Also known as "the Coinscoffin," this resting place is reserved for those who prepay for the honor of burial here. The tomb contains one of Anacaster's portals, which leads to a lightly wooded region with inset plaques on the ground, marking burial plots.
WARRIORS' MONUMENT (CD5)
This is a 60-foot-high impressive stone sculpture depicting a circle of three men and two women striking down trolls, goblinoids, ores, and barbarians, all of whom are falling backward - outward - all around them. After the Time of Troubles, the statue was renovated and magically altered to add a griffon-rider flying above the other warriors and spearing a minion of Myrkul.
LORDS' RESPITE (CD6)
This small, black marble tomb is the final resting place of those Lords who wish to be buried in state. It is fronted on three sides by statues of the Open Lords - Ahghairon (north), Baeron (east), and Lhestyn (south). There is no statue on the western face, but there is a door apparently made of the same smoky material as the Lords' helms, which prevents any from seeing or entering the inside of the tomb. Only one Lord has been buried here in the past three decades, and the identities of all buried Lords remain secret even in death, as bodies interned herein are buried in full Lords' regalia.
THE HALL OF THE SAGES (CD7)
This is a special tomb for sages - a small, dusty tomb with only about eighty sages interred inside. What makes it interesting to some illicit treasure hunters is the rumor that many of the sages' rarest tomes and books were interred with their cremated remains (a false rumor maintained by Laeral and others to flush out dealers of forbidden lore).
THE HALL OF HEROES (CD8)
This is the official warriors' tomb of Waterdeep, for fighters and all who fall in battle. Its blue marble walls enclose a trophy hall with many remembrances of the fallen, including the sword hilt of Raurlor (its blade long since turned to the skeleton of an asp). At the far end of the hall is one of Anacaster's portals, leading to pleasant rolling fields on an "empty", grassy plane, where the warriors are buried, row upon row.
DEEPWINTER VAULT (CD10)
Deepwinter Vault is the long-neglected tomb of the now-vanished Deepwinter family. It also contains the primary entrance to the Dungeon of the Crypt.
SULTLUE VAULT (CD14)
In the depths of this heavily warded tomb slumbers Sylsinssath Sultlue (CE male yuan-ti pureblood sorcerer 9/ancient master 3) of House Eselemas. Driven from Lushpool by his cousin and greatest rival, he settled in Waterdeep over a century ago and quickly rebuilt his fortunes. Members of House Sultlue make regular visits to this tomb to attend to his needs, and a small band of tainted ones actually dwell within the tomb.
CITY OF THE DEAD STRUCTURES
CD1: Roads' End (vault, C, 1)
CD2: The House of the Homeless (tomb, C, 1)
CD3: Ahghairon's Statue (tomb, A, 1)
CD4: Merchants' Rest (tomb, B, 1)
CD5: Warriors' Monument (tomb, B, 1)
CD6: Lords' Respite (tomb, A, 1)
CD7: The Hall of the Sages (tomb, B, 1)
CD8: The Hall of Heroes (tomb, A, 1)
CD9: Mariners' Rest (tomb, C, 1)
CD10: Deepwinter Vault (tomb, B, 1)
CD11: Watchway Tower (city building, A, 4),
CD12: Guard Tower (city building, A, 4)
CD13: Beacon Tower (city building, A, 7)
CD14: Sultlue Vault (tomb, B, 1)
---
Waterdeep
[Back]
Lands of Faerûn